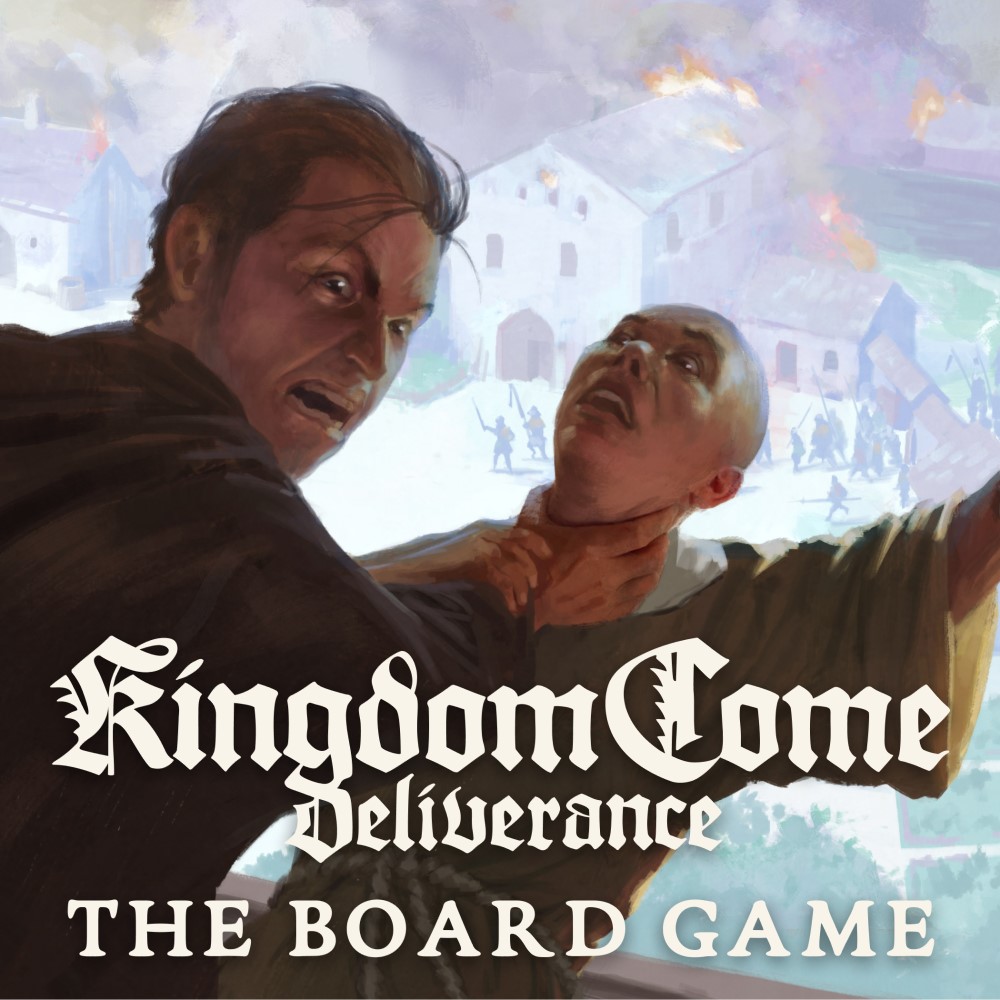 Kingdom Come: Deliverance – The Board Game
See our Ambassador benefits here
Number of Players
1–4 players
Enter the Lands of the Bohemian Crown at the onset of the Hussite wars. In times like these, trust is scarce, and faith is shaken. It is a conflict of religious beliefs that turns brother against brother, and it is the common man who pays the toll. Whether you hide in the deepest cellar or the tallest tower of a monastery, the flames of war will reach you there too. Tread lightly — and godspeed!
Kingdom Come: Deliverance – The Board Game is a 1–4 player cooperative campaign app-driven board game that brings the Lands of the Bohemian Crown to your table! Live through the harrowing times and immerse yourself in this epic narrative journey in the Holy Roman Empire.
Epic App-Driven Narrative
The app will give you all the information you need for every scenario – from the setup to the tear-down. As you enter each location, you'll be greeted with a rich world to explore, and it is up to you to decide where to go first. Throughout the game, you'll be accompanied by an adaptive sound design – your actions will not only alter the story, but also the soundscapes. Every dialog and conversation is professionally voice acted, immersing you in the world even more.
RPG-like Progression
Choose a character and become a part of the story. You'll be tested on every corner. KCDTBG features RPG-like character building that lets you upgrade your skills and attributes to better suit your needs. Attribute dice represent your integral character traits, but you can try to do anything – even when you don't have enough strength. The dice skill-check system brings excitement to every roll and is easy to manage.
Living World
Explore the world as you see fit! Interact with people and numerous locations, fight the local guards or sneak past them, make your way through the conflict between the Crusaders and the Hussites. The world remembers your every action: interact with people and locations, fight guards, sneak into a chapel, escape from the besieged Sasau Monastery, but beware how you choose! The world will remember what you do and react accordingly.
Credits
GAME DESIGN
Jan Soukal, Martin Řehořík
ILLUSTRATIONS
Tomáš Duchek, Radoslav Javor, Natálie Sodomková
STORY WRITNG
Pavel Šplíchal
COPYWRITING
David Štrobach
GRAPHIC DESIGN
Jakub Hojgr, Pavel Richter
MINIATURES SCUPLTING
Juan Hernandéz
MINIATURES DIRECTION
Lukáš Žaba
SOUND DESIGN AND COMPOSITION
Ondřej Merta
SOUND DIRECTOR
Brit Jensen
3D PROTOTYPING
Luboš Zbranek
PRODUCTION MANAGER
Mirka Jandová
APP DEVELOPMENT
Tomáš Soukal, Jan Soukal